3 Tips to Look Great on Zoom and Teams Guaranteed- even without sleep, shower, makeup, or the fountain of youth.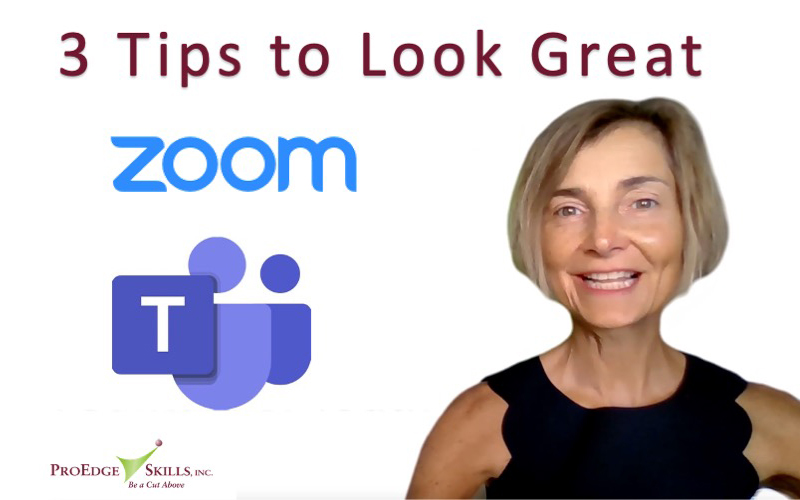 1. Light  2. Camera Angle  3. Settings.
To prove these 3 Easy Tips work, guaranteed, I demo them in the video below with…
No sleep
No shower
No makeup
No Fountain of Youth (unfortunately)
I also share 4 Tips to Avoid Looking Tired and Old.
Want a detailed PDF Summary Handout?  Click here.
Tip #1: Light
Use one soft light from straight in front of you.
Avoid overhead lights
Avoid windows
Head over to Amazon for a plethora of soft lighting options.
Tip #2: Camera Angle
Your built-in camera is fine.  It's the angle that's important.
Make the camera angle straight, just like the light.
Avoid angling laptops up.
Avoid angling desktops down.
Tip #3: Settings
Zoom- Turn on Touch Up My Appearance and Adjust Low Light
Teams-Turn on Soft Focus and Adjust Brightness
Zoom Only- Try Studio Effects in Settings.
I confess I'm addicted to Lip Color Studio Effects.
Yes, I'm wearing Zoom lipstick in the Video Demo!
Get a Detailed 21-Page PDF Summary
Click the image below to receive a detailed 21-Page PDF Summary of the 3 Tips with Screen Shots.