The Best Work Arrangement for Inclusion and Engagement? Stats are in!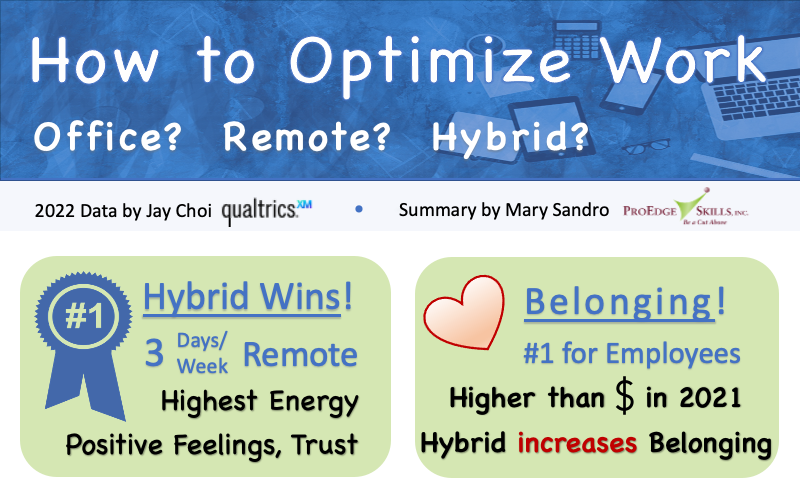 Optimize Office, Remote, Hybrid with these insights….
Zoom delivered a powerful Work Transformation Summit on July 19, 2022.
My favorite Stats, Best Practices, and Surprising Benefits of Hybrid Work….
2022 Survey Stats
from Jay Choi CPO, Qualtrics
14,000 Respondents. 22 Industries. 27 Countries.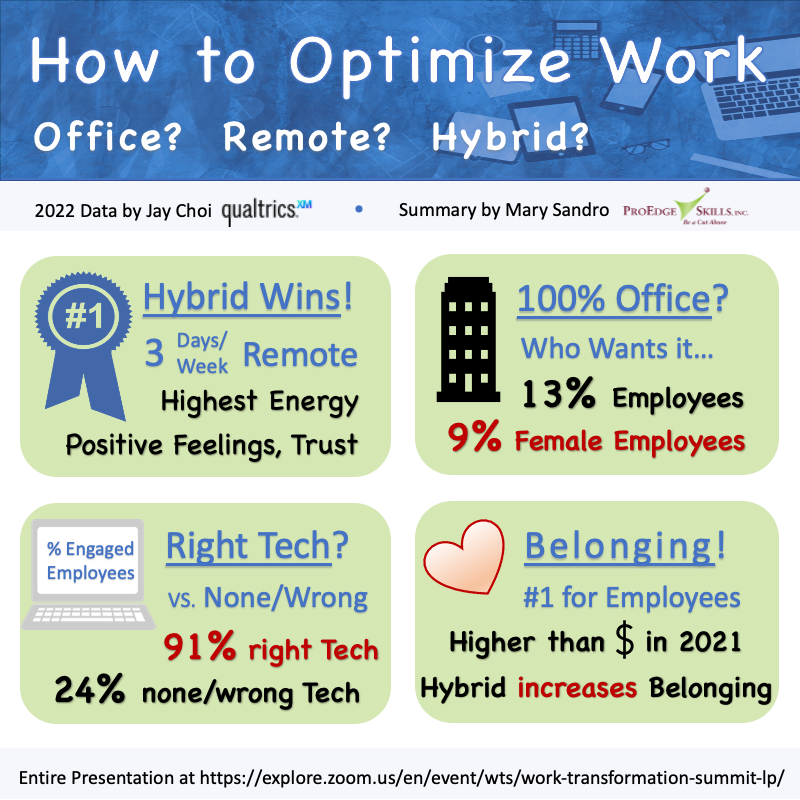 3 – Remote Days/Week for Highest Energy, Positive Feelings, & Trusting Relationships
9%- Percentage, when only Women are asked,  who want to work 100% In the Office
13%- Percentage, when All Employees asked,  who want to work 100% In the Office
(In a 50-50 Male/Female Office 4.5% Women 8.5% Men want to work 100% in Office)
24%- Employee Engagement without Productivity Enhancing Technology
91%- Employee Engagement with Productivity Enhancing Technology
#1– Belonging & Inclusion Ranked Highest by Employees in 2021 above Salary etc.
Client Panel
Douglas A Edwards, SVP Humana, Chris Bedi CDIO Service Now, David Picot BJs Wholesale Club
Best Practices
Develop Work Styles for Employees to Choose- (Office, Remote, Hybrid)
Give Meaningful Reason to come to Office. Don't need Office to work.
Always Actively Optimize for Hybrid. Ex- Start meetings with someone remote.
Make Office Mostly Open and Collaborative. Café spaces. Couches. Meeting Rooms.
Listen and Adapt. Work Transformation is evolving. Avoid rigid policies.
Be an Exemplar. As a leader, model your current policies.
Reach Out…for NO Reason. Call on the phone, no Zoom, just to say, "Hi."
Inclusion and Belonging
Inclusion and Belonging are HUGE benefits of Hybrid Work
More Employees Participate because of Options like Chat.
All Zoom Boxes are Same Size. Reduces impact of hierarchy and titles.
Concerns
Avoid New Divide Between Remote and Office Employees
Provide Career Progression for ALL Work Styles not just 100% Office
Preserve Office Osmosis Learning for Younger Employees
Recreate "unintentional collisions" & idea exchange that happens in Office
Summary:
"Work Transformation is a Work in Progress".
Use these insights, Listen & Adjust to optimize employee engagement and performance.
Summit Recording:
Watch the entire 2-Hour Recording of Zoom's Work Transformation Summit for additional best practices, including Zoom's newest, cutting-edge Technology to Transform Work.
Jay's Presentation Starts at 27:40
Panel Discussion Starts at 52:30
Communicate for Results:
Want to Sell More, Lead Better, Teach Faster?
Deliver Customer Service that Creates a Positive Customer Experience Every Time?
Reach out to learn more.